Available to rent (video stream) or download with Amazon Video:
Order your DVD or Blu-Ray below – y

ou can sign in to our Store using your Facebook or other social media log-in:
"Caesar's Messiah" DVD
884501679015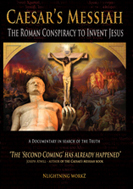 Based on the book of the same title by Joseph Atwill, this documentary reveals that the Romans created Christianity as a political tool to control the masses of the day, and it is still being used this way today. • NTSC format. • Run Time: 83 minutes. • Dolby Digital 5.1 Surround Sound. • Movie trailer included.